Get An Instant Quote on Florida – Mobile Home Installer ($5,000) Bond Now
What is a Florida Mobile Home Installer Bond?
A Florida Mobile Home Installer Bond is a contract between you and the homeowner. If something goes wrong during your installation process, such as if they're not satisfied with their new home or there was some kind of misuse of funds, then both parties are protected by this bond.
Mobile Home Installer Bond
Swiftbonds is an online service that provides fast and easy bonding for mobile home installers. We offer bonds nationwide with no credit check and no paperwork required. All of our bonds come with a 100% satisfaction guarantee so if you're not happy we'll work hard to make it right!
Get bonded today! It's quick, easy, and hassle-free!
Click the link to get started now!
Why do I need Florida Mobile Home Installer Bond?
To protect you from damage caused by an inadequate job. If a homeowner suffers damages due to poorly-installed mobile home services or weather sealant, they are guaranteed reimbursement up to $5,000 bond amount.
Why Florida Mobile Home Installer Bond required?
The state of Florida requires a bond for those who would like to be licensed as mobile home installers. The Obligee on the bond reads "Director of Division of Motorist Services, State Highway Safety and Motor Vehicles Department."
A mobile home license in Florida
In order to be licensed as an authorized dealer of recreational vehicles, including manufactured homes and other trailers such as boats or campers, one must apply for the appropriate licenses through their regional DMV office.
Can I put a mobile home on my land in Florida?
There are some things you should know before deciding whether it is for you. If your area of residence permits modular homes then they can be purchased and placed onto the standard residential lot that has been acquired, wherever this may be – rural or urban areas alike.
Is a mobile home real property in Florida?
Mobile homes are considered to be as 'real' as any other type of residential or commercial building, based on the ownership status and whether they're tied down.
Does the Florida Building Code apply to mobile homes?
All residential units built in accordance with federal regulations are covered by this code. This includes anything from single family houses, apartments, condos and even trailers! The best way to see if you need a building permit is to check for any sign on your home that states what standard it was built under.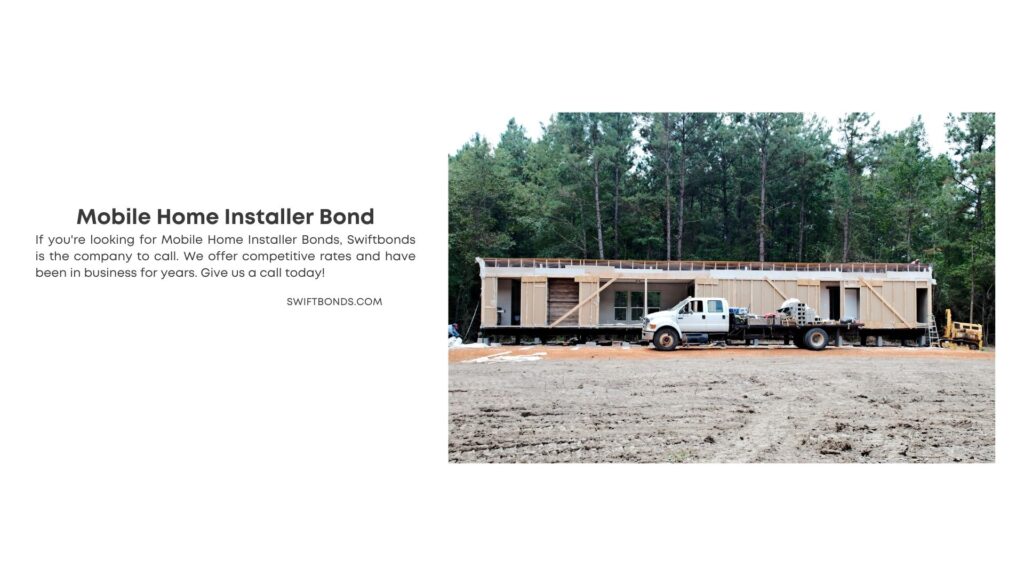 What license do I need to sell mobile homes in Florida?
If one is looking to be a dealer of mobile homes in Florida, they must first obtain the appropriate license from their state's Department of Motor Vehicles.
How do I sell my mobile home in Florida?
In order to transfer ownership of a mobile home, you will need to fill out and submit a bill of sale with the Department for Highway Safety. This is a legal document stating details about the transaction such as when it was sold or who bought it from whom.
Is it safe to live in a mobile home?
Florida factory-built homes are among the safest you can buy thanks to stringent building codes, safety inspections standards and comprehensive installation requirements.
How much does it cost to run electricity to a mobile home?
The cost of electricity to a mobile home can vary depending on how far away the hookups are. The farther out, the more expensive it will be for connecting; according to LandCentury.com, this process could range anywhere from $10-30k in most cases!
Is a mobile home considered an asset?
Absolutely! Although they go down in value and can be difficult to sell, if you are ready to move, it is much easier selling your own property than trying to find someone who wants the same apartment as you.
Do you need a permit to move to a mobile home in Florida?
Homeowners are not permitted to pull owner/builder permits for mobile homes setups. If your house is pre-1976 and needs to be moved, it must be because of "forced movement" per the Florida Department of Motor Vehicle rules and regulations. See a Florida- Health Studio ($25,000) Bond.
What is considered a permanent structure in Florida?
Permanent structures in Florida are defined as any outdoor structure that is cemented to where it stands and unable to be moved about a property. Examples of permanent structures include homes, garages, barns, sheds- pretty much anything you can't take with you when traveling the country without having some hefty equipment on hand!
Is a mobile home a building?
A lot of people would debate as to whether or not the term "mobile homes" should be considered buildings. Some housing experts even believe that it is misleading when Florida law and codes refer to these structures as such, because they are technically manufactured housing rather than factory-built houses.
How do I transfer ownership of a mobile home in Florida?
To transfer ownership of a mobile home in Florida, you'll need to bring forms and payment for the appropriate taxes. Ideally both buyer(s) and seller should go with the paperwork into your local DMV office because there may be last-minute issues that arise at time of transfer.
Can you make money buying and selling mobile homes?
When wholesaling, the primary role is to find customers that are interested in a particular property. You'll need some experience with real estate before getting started but it's easy to learn how on your own time. Be sure not to get caught up by potential buyers who want too much of a deal as this will only end badly for both parties involved!
What is the sales tax on a mobile home in Florida?
When a mobile home is purchased in Florida, one must pay the state sales tax (6%) and any applicable local option sales taxes due ($1 not to exceed $50). Licensed dealers selling these homes are required by law to collect and remit all appropriate taxes.
Is it worth buying a mobile home in Florida?
As they're often low-cost, and sometimes offer vacation or retirement home options in addition to just being an attractive primary housing choice. It's worth considering some unique challenges that come with owning one though; especially ones on the Gulf coast!
Is buying a mobile home in Florida a good investment?
The Verdict. Mobile homes can make for an alternative investment if you're looking to diversify your portfolio and don't mind the downside, like paying cash upfront. Find a Miami, FL – Itinerant Locksmiths and Tool Grinders ($500) Bond.
Can a mobile home withstand 100 mph winds?
The wind safety standards require that manufactured homes be resistant to hurricanes in Wind Zone II and III. In these zones, the speed of 100 miles per hour or 110 mph respectively is required for resistance against high velocity breezes.
How much does the foundation for your mobile home cost?
The national average to build a permanent foundation is between $3,500 and $200,000. However, most homeowners will pay around $4,000-$12,000!
How do you prepare land for a mobile home?
The first thing I'll need to do is buy land and then prepare it for construction! If you're interested in the process, here's what you can expect: order a land survey; apply for necessary permits; choose your site location; build your foundation well ahead of time (it takes time); bring any utilities that will be needed into the area before they are hooked up.
Is a mobile home a bad investment?
A mobile home may be a bad investment. Mobile homes depreciate quickly and are generally more expensive to finance than stick-built homes which are considered part of the property value. Have a FL – Money Services Business Bond.
Is buying a mobile home better than renting?
While the upfront costs are higher, buying a mobile home is often less expensive than renting an apartment. Renters spend around 40% more on housing expenses and in some cases pay as much as double what they would have paid to buy their own trailer!
Why are mobile homes so cheap?
Mobile homes are cheap for a reason. They're mass produced and built on assembly lines, which means they cost less than their traditionally-built counterparts. Depending on where you live the average price of a home can be lower or much higher – so it's important to do your research before making any big decisions!
How will I be able to find out who owns my mobile home in Florida?
The best way is by visiting the Registry of Deeds for your county. You're going to need some information with you: either a property address, or homeowner names (or if it's not theirs) and also the name of whoever holds a loan on their mortgage secured through a mobile home.
How do you transfer a mobile home to a trust?
You can transfer your mobile home with the help of a Trust & Estate attorney. Your lawyer will establish an estate for you and then draft up a declaration to outline what property is included in it, including all legal documentation required by lenders lending on this type of purchase.
Is it hard to move to a mobile home?
It's not as hard to move a mobile home, one that is larger than just the single section. Movers skilled and trustworthy can do it by inspecting your house first, removing skirting when needed, then splitting the homes into two or three sections like how they were manufactured in order for them to be moved easily with equipment such as trucks on trailers.
A mobile home and a manufactured home?
Mobile homes were built before 1976 whereas manufactured houses were built after. Manufactured houses must meet a higher set of building standards than those that applied to mobile-home construction before them. Need a FL – Mobile Home Manufacturer ($50,000) Bond.
Permanent foundation for a mobile home?
A permanent foundation is made of durable materials like concrete that are typically site built. The HUD states a manufactured home must have attachment points to anchor and stabilize the structure because it transfers all loads to the underlying soil or rock.
Learn more on mobile home dealer license Florida