Get a BMC-84 Bond – ICC Broker Bond Instantly!
What is a freight broker bond?
A freight broker bond is required for your freight business. It protects motor carriers and shippers according to the FMCSA rules and regulations. The typical claim is made when a motor carrier is not made.
To get one now, just click on the Instant Quote image. Choose your state and then the type of bond you need.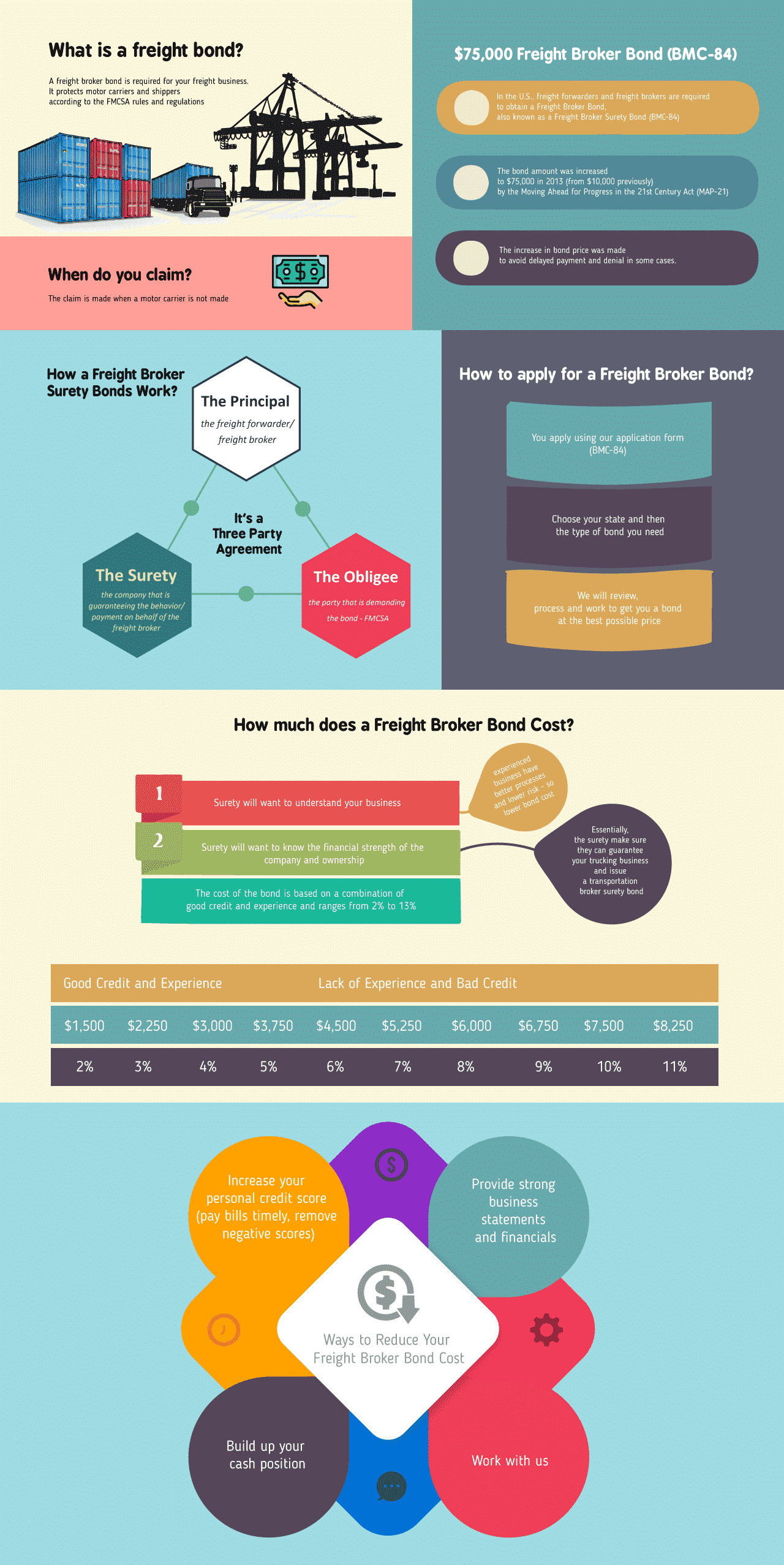 $75,000 Freight Broker Bond (BMC-84)
In the U.S., freight forwarders and freight brokers are required to obtain a Freight Broker Bond, also known as a Freight Broker Surety Bond (BMC-84). This requirement is due to the Moving Ahead for Progress in the 21st Century Act (MAP-21), which increased the required bond amount to $75,000 in 2013 (from $10,000 previously). The FMCSA stated that the massive increase in pricing was necessary due to numerous examples where carriers and shippers were delayed (some even denied) in receiving payment. However, the law passed and most brokers and forwarders are still able to commence with business. This is sometimes called a property broker bond.
Freight Broker Bond Process
The process to receive a Freight Broker Bond (BMC-84) is fairly straightforward. You apply using our application and we'll work to get you a bond at the best possible price. Pretty easy, right? See our PODS Freight Broker Bond page for more info.
How Freight Broker Surety Bonds Work (our really short Freight Brokers Bond Guide)
A freight broker surety bond is a type of surety bond, which is a three party agreement. The three parties to this agreement are:
The Principal – the freight forwarder / freight broker
The Surety – the company that is guaranteeing the behavior/payment on behalf of the freight broker
The Obligee – this is the party that is demanding the bond. In this case, the Obligee is the FMCSA
How much does a Freight Broker Bond Cost?
The cost of the bond depends on several factors. First, the surety will want to understand your business, as more experienced businesses typically have better processes in place to reduce risk, which lowers the bond cost. Second, the surety will inquire about the financial health of your business. Finally, the surety will want to know the personal credit history and financial strength of the owner. Given that the standard BMC-84 (Freight Broker Surety Bond) is provided without collateral, the surety is looking for financial strength and experience from the company and ownership. Essentially, the surety wanting to be sure that they can properly guarantee your trucking business to issue a trucking surety bond (or transportation broker surety bond).
How Much Will a $75K Bond Cost Me?
The cost of the bond is based on a combination of good credit and experience and ranges from <2% to 13%.
Good Credit and Experience
Lack of Experience à Bad Credit
$937.50
$2,250
$3,000
$3,750
$4,500
$5,250
$6,000
$6,750
$7,500
$8,250
1.25%
3%
4%
5%
6%
7%
8%
9%
10%
11%
How do I apply for a Freight Broker Bond?
Apply for a Federal Motor Carrier Safety Bond (BMC-84) using our form, above. We will review and process this promptly.
Reduce Your Freight Broker Surety Bond Cost
You can start now to reduce your federal motor carrier safety bond cost. It does take time, but what you can do to lower the cost is:
Increase your personal credit score (pay bills timely, remove negative scores)
Provide strong business statements and financials
Build up your cash position
Work with us
See our License and Permit Bond page for more.
Click here for more on bonds.