Get An Instant Quote on California Commercial Fundraiser for Charitable Purposes ($25,000) Bond Now

What is a California Commercial Fundraiser for Charitable Purposes?
In order to conduct business, commercial fundraisers are required by the California Office of Attorney General (CAOAG) to file a bond. This is meant not only as protection for consumers but also should any unlawful acts occur from within their company – they owe up an amount set in full or partial damages if approval is granted on behalf of the CAOAG and surety companies pay out based on what's owed.
Looking for a California Commercial Fundraiser for Charitable Purposes ($25,000) Bond
We offer a variety of bond types and structures to meet the needs of our clients. Our team has extensive experience in the industry, so we are able to provide you with all the information you need about your options.
If you're looking for a way to raise money for your organization, contact us today! We have an experienced staff ready to help you find the perfect solution.
Click here now or call (913) 214-8344 and speak with one of our representatives today!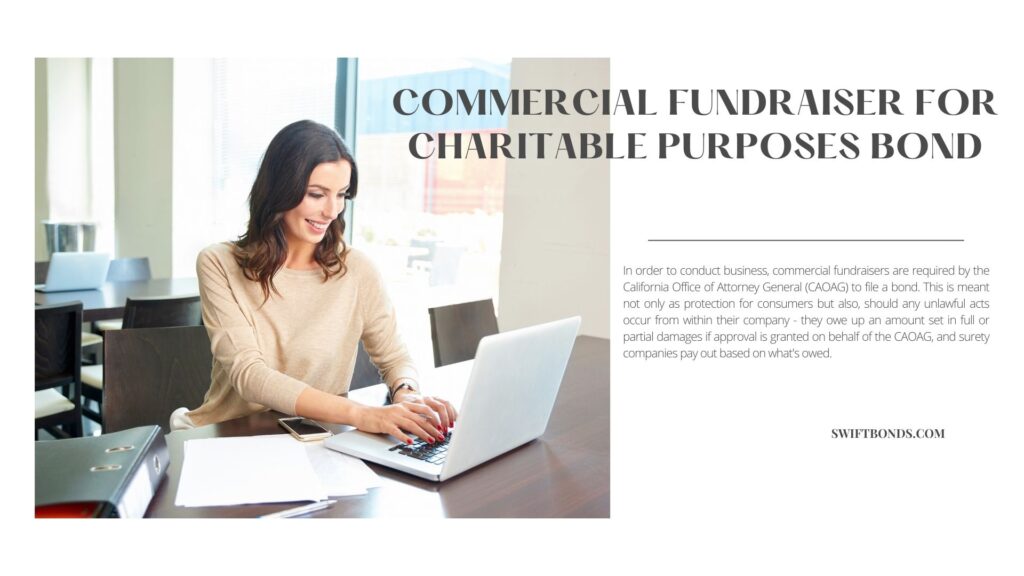 Who Needs a California Commercial Fundraiser Bond?
Anyone who wishes to do a fundraiser for charity should get a bond. Basically, fundraising is any company that collects money from people and then donates it all back! Here's a California – Motor Vehicle Dealer ($10,000) Bond.
Anyone looking to hold a fundraiser for charitable purposes will require an appropriate commercial fundraising bond as defined by California Government Code Section 12599- Commercial Fundraising being the definition of "any individual, corporation or other legal entity:
1. That solicits funds assets or property
2. Receives such donations on behalf of their organization
3. Employs someone compensated in order solicit these items
What does the California Commercial Fundraiser Bond do?
A California business that solicits fundraising for charity or hires employees to fund-raise must file a bond. Section 21599 of the Governmental Code of the State of California outlines the requirements to lawfully collect funds for charity. The state requires this bonding in order to protect both public and government from harm caused by any noncompliance with regulations outlined in section 21599. Find a California Motor Vehicle Dealer Bond ($50,000).
How much does a California Commercial Fundraiser Bond cost?
California Commercial Fundraiser Bond is a type of surety bond that varies in cost and depends on the credit score of the applicant. Sometimes, personal or business financials may be required depending on what surety amount is needed for bonding purposes.
Can I get a California Commercial Fundraiser Bond with bad credit?
Swiftbonds offers a wide-range of approvals, regardless of credit history or bad credit. One key factor in our success is that we are able to work with 99% of applicants who have been turned down elsewhere due to their poor financial standing. Our knowledgeable underwriting staff will make sure you get the lowest possible price for your bond no matter what personal circumstances may be preventing you from getting approved for other companies' bonds. Have a California Auction Company ($20,000) Bond.
How to get your
California Commercial Fundraiser Bond
?
Would you like to know the first step in getting your California Commercial Fundraiser Bond? It's super easy! Fill out our quick online application and get a no obligation quote today. Our Underwriters will contact you within an hour of submission, or come chat with them on the phone for help applying. See a California Commercial Requester Account ($50,000) Bond.