Get An Instant Quote on Palm Beach County, FL – Roadside Vendor ($2,000) Bond Now
What is a Roadside Vendor Bond?
Roadside vendor surety bonds are a type of permit bond that typically applies to vendors who don't have fixed retail locations. These bonds need to be submitted along with your application before you can sell goods at events or in designated public areas, and these permits only apply for those selling their goods on the roadway (not sidewalk).
Need a Roadside Vendor Bond?
Swiftbonds is the leading provider of roadside vendor bonds in North America. We offer competitive rates and flexible terms so that you can get back on the road as soon as possible. Our experienced team will help guide you through the process, from start to finish.
If you're looking for an easy way to get your business up and running, we have what it takes to make sure everything goes smoothly. Let us take care of all your bonding needs so that you can focus on what really matters – making money!
Click this right now to apply for your new roadside vendor bond with Swiftbonds!
Who is required to get a roadside vendor bond?
If you plan to work as a transient retail merchant, like someone who sells at fairs or "pop-up" stores in the city for just awhile before moving on to another location, then it's likely that your employer will require you get a roadside vendor bond.
How much does a surety bond for roadside vendors cost?
Surety bonds for roadside vendors vary but generally require a large bond value and complex paperwork. The cost varies depending on the locale of your business, as well as how much you plan to sell in an area.
How much is a vendor's license in Florida?
In Florida, a vendor's license is available for as little as one day on up to an entire year. The fees start at $95 for a one-day permit and can go up to $1,000 annually with the required Social Security number in hand.
How do I get a food vendor's license in Florida?
For starters, you may need to complete the commissary letter of agreement. If this is not enough, then it will be necessary for you to obtain your own kitchen and other facilities approved by the State Department of Business Professional Regulation (DBPR). Get a FL – Permitted Work Performance Bond.
Do I need a seller's permit in Florida?
If your business is involved with the wholesale, retail sale or repair of products then yes. The good news is that there are no specific "retail" permits so if you're unsure about what type of seller's permit to apply for, Florida has an easy application process- just register and get started right away!
Do I need a vendor license in Florida?
If you want to do business with the state of Florida, then your best option is registering for their vendor account. If not, and if all you plan on doing is selling items or services within the state as an independent contractor, then yes; but only obtain a vendor license when necessary.
Do I need a license to sell homemade food in Florida?
You do not need a license to sell homemade food in Florida. You can only make and sell it from your main residence, but you cannot set up shop on someone else's property or kitchen.
Can I sell food from my home in Florida?
You may sell food products from your residence directly to the consumer. Sales are also approved at farmers' markets, flea markets and roadside stands – provided you have no other foods that require a permit in your space.
How much is a food permit in Florida?
In order to open a restaurant in Florida, you are required to purchase a $50 permit from the Public Food Service and Lodging Establishment Licensing website. This process should take about a month before your business can be officially inspected by public health officials for sanitation purposes.
What does a street vendor do?
A street vendor sells items from a cart or station near the pedestrian areas where many people walk by. The main goal is to make money, and often food-related products are what they sell since these types of licenses are easier for them to obtain. Need a FL – Pawnbroking ($10,000) Bond.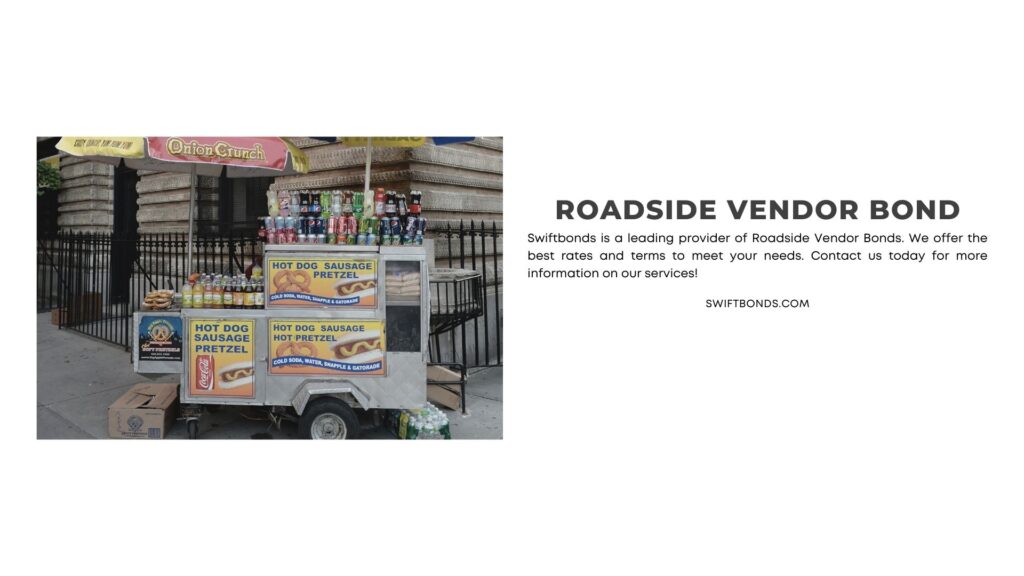 Do street vendors make money?
Street vendors are often seen selling food and other goods on the side of the road. They earn an average hourly wage of $13.18, but salaries can range from as low as $9.40 per hour to a maximum of around $18.49 per hour depending upon location or sales volume in that region!
What are street food vendors?
Street food vendors are the best because they sell tasty and affordable dishes that can be eaten on-the-go. Street food vendors make a variety of cuisine including noodles, salad bowls, pork buns and more! People often buy from street stalls at night to meet their hunger cravings after hearing about it through word of mouth or seeing pictures online earlier in the day.
Can I sell flowers on the street?
I am not sure if I should sell flowers outside. There are things to consider such as the weather, time of day, and place that you will be selling your goods at.
How many types of street vendors are there?
There is no simple answer to this question, as the variety and type varies from country to country. By and large however, two main categories exist: stationary stalls on pavements or mobile sellers who move around with their carts containing all sorts of goods for sale.
Should street food be banned?
Street food carts can be an attractive nuisance to pedestrians and drivers, but are also a vital part of the local economy. The quality and safety hazards vary depending on what is being prepared which may not always meet health standards for street fare. Have a Florida – Public Adjuster ($50,000) Bond.
Who is a food vendor?
A food vendor is anyone who sells prepared foods to the public. The definition of a food vendor varies, depending on your perspective–from restaurants and vendors all the way down to small non-profits or individual groups selling their homemade goods out in front of someone's house.
Can I sell food from my house in Florida?
The Florida government allows the sale of cottage food products from one's residence directly to consumers. Sales are also approved at farmers' markets, flea markets and roadside stands, provided that you have no other items requiring a permit in your space.
How do you deal with pesky street vendors?
Wear sunglasses and a hat. You don't even need to look at them when they call out your name or ask what you're looking for, just walk past as if it's not happening-and then reward the ones who respect your wishes by making eye contact once in a while.
What are the effects of street vending?
Street vending and waste picking are the dominant works undertaken by the urban poor, exposing them to several pathogens and high levels of air pollutants. The situation has severe consequences for their health because they're constantly exposed to physical hazards on a daily basis.
What are the causes of street vending?
Street vending is a common sight in many countries. It's the result of poverty-stricken people from rural areas migrating to cities and taking up jobs as vendors because they feel that it will provide them with better lives while also easing some of their burden. They are often underpaid, overworked, and ignored by authorities who refuse to protect them despite knowing about crime rates within these communities
Why should we not eat roadside food?
Well today I am going to tell you exactly why. Stomach infection and abdominal pain are just some of the ways these types of meals can negatively impact your health. Find a FL – Pari-Mutuel Wagering ($50,000) Bond.
Is the vendor the same as the supplier?
To put it simply, vendors purchase products from a company and then sell them to someone else. A supplier is the opposite of this as they make goods available for another business or service.