What is a Florida Private Educational Institution Bond?
A surety bond is required for Florida private schools before they can receive a Certificate of Authorization. The blanket surety bond must be in a certain sum determined by the Department, which you should call to find out from them without delay.
The surety bond ensures that the private educational institution operates its institution as authorized by and in conformity with all rules and regulations promulgated by the Department of Education. It is a measure to ensure compliance, so if any damages are promptly paid then this obligation will be null and void.
Need a Florida Private Educational Institution Bond?
A bond is a type of insurance that guarantees the performance of an agreement or contract. It's also known as suretyship, which means to provide security on behalf of another person. Swiftbonds provides bonds in all 50 states and Washington D.C., so we can help with any project you're working on!
We offer many types of bonds including construction, public work, contractor's license and permit, liquor license, gaming license, and more! Our customer service team is here to answer any questions you may have about our products or services. Contact us today for more information!
Click this right now to learn more about how Swiftbonds can help your company get bonded today!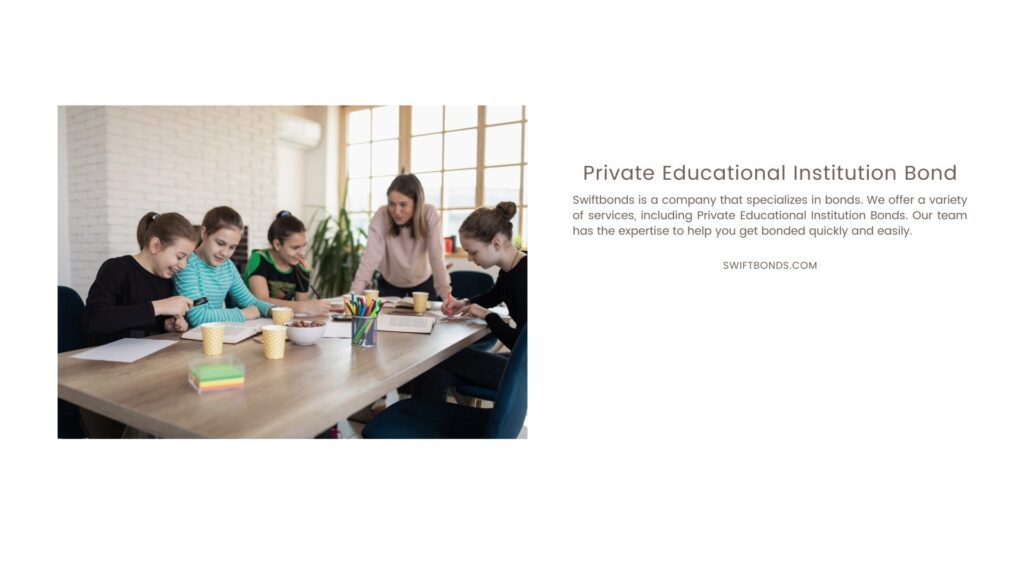 How much does a private school bond cost in Florida?
The Florida Non-Public PostSecondary Education Commission requires private educational institutions involved in the Florida Tax Credit Scholarship Program to post surety bonds. The amount of this bond varies and must be equal to the average scholarship funds for a quarter, but applicants should verify their required bond with the state before bonding because it differs depending on various factors like location and school size. Here's a Escambia County, FL – Solicitor ($5,000) Bond.
Who requires Florida Private Educational Institution Bond?
The Florida Private Education Institution Surety Bond is required by the State of Florida. The bond states that a "private educational institution" must follow the provisions of the state's statutes and all rules and regulations promulgated by its Department of Education, ensuring they comply with local laws. If not, those who have filed claims on this surety bond may file suit to recoup their losses in an additional claim against these institutions- so it pays to be accountable for your actions!
This bond ensures that schools involved in this tax scholarship program will not try to deceive the state by lying about how many students they have enrolled. If a school tries to make false claims, then their surety must pay for any damages up until the full amount of bonding is reached. The principal (school) would be responsible for paying back their surety and compensating them should there be overspending on behalf of the university. Find a Escambia County, FL – Gas Installation Contractor Bond.
What's the fine print of this bond?
As a private educational institution, you have the option to cancel your bond at any time. Surety bonds are usually continuous until canceled but Florida law requires that written notice be given 30 days prior for cancellation of surety in order to take effect on an agreed-upon date. Get a Florida Yacht and Ship Broker ($25,000) Bond.
Can I get a Florida Private Educational Institution Bond with bad credit?
Swiftbonds offers a wide-range of approvals, regardless of credit history or bad credit. One key factor in our success is that we are able to work with 99% of applicants who have been turned down elsewhere due to their poor financial standing. Our knowledgeable underwriting staff will make sure you get the lowest possible price for your bond no matter what personal circumstances may be preventing you from getting approved for other companies' bonds.
How to get your Florida Private Educational Institution Bond?
Would you like to know the first step in getting your Florida Private Educational Institution Bond? It's super easy! Fill out our quick online application and get a no obligation quote today. Our Underwriters will contact you within an hour of submission, or come chat with them on the phone for help applying. Read a Hillsborough County, FL-County Code Compliance Bond ($5,000).