Get An Instant Quote on Florida – Fuel Tax – Pollutants Tax Bond Now

What is Florida Fuel Tax or Pollutants Tax Bond?
A Fuel or Pollutants Tax Surety Bond is a type of surety bond required as security for those applying for a fuel license with the Florida Department of Revenue. An importer's bond is also required in addition to a wholesaler's bonds pursuant to Rule 12B-5.030, Florida Administrative Code. Pursuant to Chapter 206, the surety bond will be necessary for any one that owns and operates an industrial plant if it imports into this state motor fuels used by such plants; diesel fuels including both aviation fuel diesel and other nonroad diesel as well as alternative energy sources which are not taxed under Section 207(4)(a)1.
Need a Florida – Fuel Tax – Pollutants Tax Bond?
Swiftbonds is a leading provider of fuel tax and pollutants tax bonds. We offer the most competitive rates in Florida. Our experienced staff can help you with all your bond needs, from start to finish.
If you have any questions about our services or need assistance, please contact us today! You can reach us by phone at (913) 214-8344 or email at [email protected]. We look forward to hearing from you soon!
Click here to learn more about our services!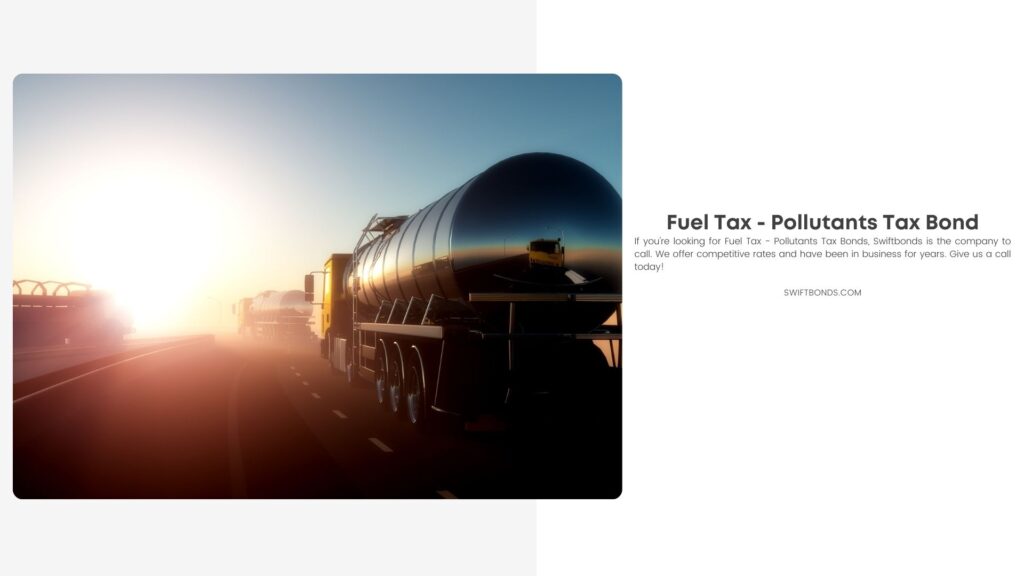 Why do I need Fuel or Pollutant Tax Bond?
A surety bond is a contract that protects the party requesting it, known as Obligee. The Florida Fuel Pollutants Tax Surety Bond holds you accountable for your decisions and actions against state and local laws governing fuel pollutant taxes in accordance with Chapter 203 of Title XVI of Part III of the Florida Statutes relating to Motor Vehicle Fuels Taxes. Read a Florida – Athlete Agents ($15,000) Bond.
What is the purpose of Fuel or Pollutant Tax Bond?
The Florida Fuel Pollutants Tax Surety Bond is a guarantee for your Obligee that you will be responsible and trustworthy. If it turns out there are issues with the business decisions, then they can trust in this bond to get what was owed back from whomever has been affected by these bad choices. Get a Lakeland, FL – City Electrical Contractor ($5,000) Bond.
How much does a Florida Fuel or Pollutant Tax Bond cost?
Fuel or Pollutant Tax Surety Bonds are a type of bond that vary in cost and depend on the credit score of the applicant. Sometimes, personal or business financials may be required depending on what surety amount is needed for bonding purposes. See a Florida – Assisted Living Facility Bond.
Can I get a Florida Fuel or Pollutant Tax Bond with bad credit?
Swiftbonds offers a wide-range of approvals, regardless of credit history or bad credit. One key factor in our success is that we are able to work with 99% of applicants who have been turned down elsewhere due to their poor financial standing. Our knowledgeable underwriting staff will make sure you get the lowest possible price for your bond no matter what personal circumstances may be preventing you from getting approved for other companies' bonds.
How to get your Florida
Fuel or Pollutant Tax Bond
?
Would you like to know the first step in getting your Florida – Fuel Tax – Pollutants Tax Bond? It's super easy! Fill out our quick online application and get a no obligation quote today. Our Underwriters will contact you within an hour of submission, or come chat with them on the phone for help applying. Here's Florida – Alcohol Manufacturer Bond.