Get An Instant Quote on Florida – Citrus Fruit Dealer Bond Now

What is Florida – Citrus Fruit Dealer Bond?
Florida Citrus Fruit Dealer Bonds are a licensure requirement for every citrus fruit dealer in the State of Florida. As mandated by Section 601.61, surety bonds are needed to guarantee full compliance with contracts entered between dealers and producers from this industry at large.
If deceptive practices happen as per the contract agreement, those who have been harmed will be recovered financially through these guarantees that come along with our licensed bond business here!
In order to receive the right for citrus inspection, a citrus fruit dealer must furnish another surety bond that guarantees payment of fees.
Need a Florida – Citrus Fruit Dealer Bond?
Swiftbonds is a leading provider of surety bonds for the citrus fruit industry. We offer a wide variety of products and services to meet your needs, including bonding agents, licensees, and brokers. Our experienced team can help you with all your bond needs!
Contact us today to find out more about our services or call (913) 214-8344. We're here to help!
Click this right now and get in touch with one of our knowledgeable representatives!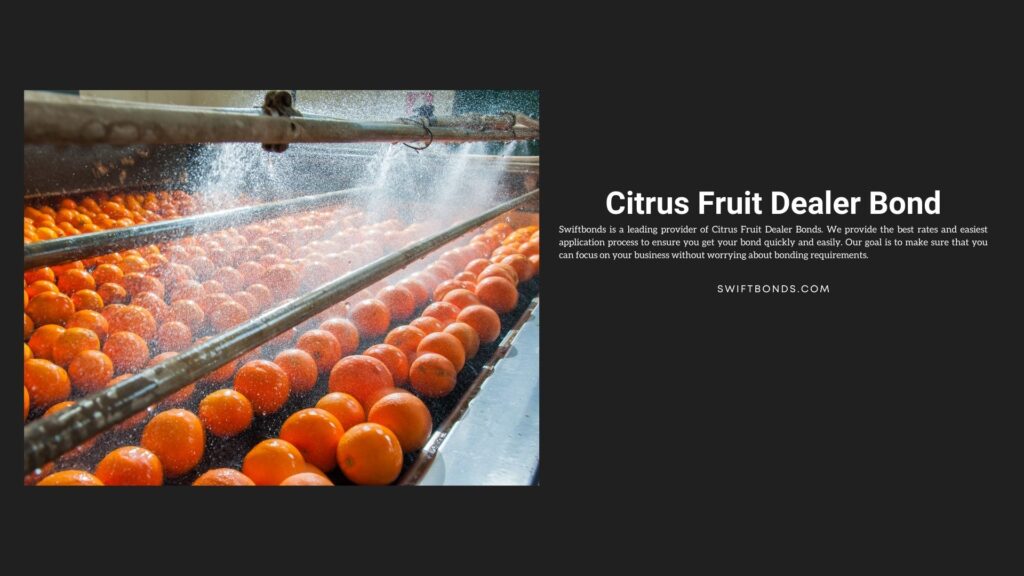 Who Needs A Citrus Fruit Dealer Bond?
Anyone distributing citrus fruit in the state of Florida must obtain a bond according to the Department for Agriculture and Consumer Services. Without this, they may have to pay fines or even face jail time if their business practices are not up-to-snuff with the law!
How Much Do Citrus Fruit Dealer Bonds Cost In Florida?
Florida's citrus fruit dealers must be bonded. The bond amount varies based on the applicant and their business size, but is generally determined by how many boxes of inspected produce they sell each year in Florida. Those with better credit will pay less for a higher percentage rate than those with bad or no credit score; this can help lower your overall costs significantly if you have good personal finance history! Read a Florida – Construction License ($10,000) Bond.
Payment Guarantee Inspection Bond
You might have to pay a hefty fine, and then there will be even more consequences. Luckily for citrus fruit dealers in need of surety bonds, payment guarantee inspection bond ensures their compliance with all provisions of Chapter 601–including making good on accounting fees owed to commissioners at any time! If they fail to operate ethically or within bounds set forth by local laws, this type of bond protects against financial loss. Get a a Florida – Concessionaire Bond.
Can I get a
Citrus Fruit Dealer Bond
with bad credit?
Swiftbonds offers a wide-range of approvals, regardless of credit history or bad credit. One key factor in our success is that we are able to work with 99% of applicants who have been turned down elsewhere due to their poor financial standing. Our knowledgeable underwriting staff will make sure you get the lowest possible price for your bond no matter what personal circumstances may be preventing you from getting approved for other companies' bonds.
How to get your Citrus Fruit Dealer Bond?
Would you like to know the first step in getting your Citrus Fruit Dealer Bond? It's super easy! Fill out our quick online application and get a no obligation quote today. Our Underwriters will contact you within an hour of submission, or come chat with them on the phone for help applying. Have a Clay County, FL – Water and Wastewater Maintenance Warranty Bond.
How can I protect my business from claims?
Failing to protect your citrus fruit business could lead you into a dangerous situation where you are liable for financial compensation. Florida Statutes 601.61-601.65 require compliance so that the state can provide safeguards against claims, but if these rules were not followed then it would be up to the surety company and they may come back at you with additional fees or worse yet make securing bonding difficult next time around! See a Jupiter, FL – One Day Event Bond.