Get An Instant Quote on City of Houston Utility Deposit Bond Now
What is City of Houston Utility Deposit Bond?
For a small percentage of the deposit amount, many businesses post Texas (TX) Utility Deposit Bonds – City of Houston utility deposits. By doing this they are guaranteeing that if electricity, gas or water is not paid for in full and on time then their business can be based by these services without incurring any financial penalty from the city.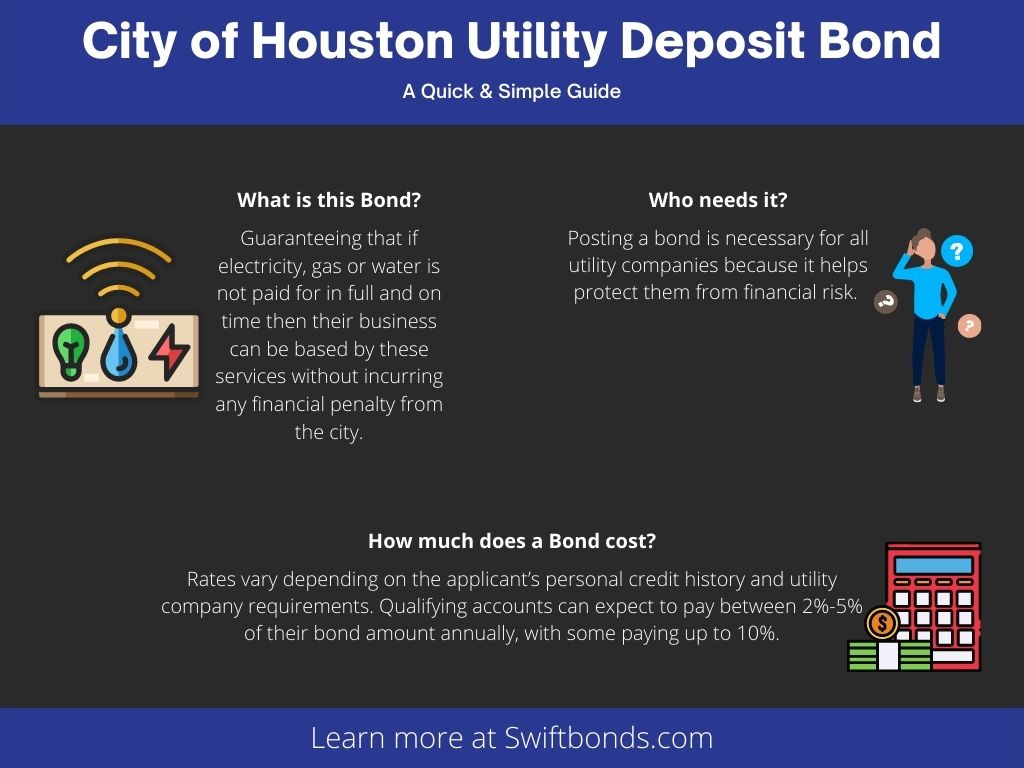 Need a City of Houston Utility Deposit Bond?
The Utility Deposit Bond is an insurance policy that protects utility companies from loss due to unpaid utilities by homeowners who move out of their homes without paying for services. This bond can also protect new homeowners if they do not pay for their first month's bill before moving into their property.
Protect yourself against costly penalties by purchasing this bond now! It's easy and affordable! You will receive all the information needed to complete the application process online or over the phone with one of our representatives. We offer competitive rates on bonds as well as flexible payment options so it's never been easier than today to get protected! Here's Houston Sign Erection Bond.
Click here for more information about how we can help protect your investment in your home with a Utility Deposit Bond from City of Houston!
How much does a City of Houston Utility Deposit Bond cost?
Rates vary depending on the applicant's personal credit history and utility company requirements. Qualifying accounts can expect to pay between 2%-5% of their bond amount annually, with some paying up to 10%. The best way for you to get an accurate rate quote is by completing our online application so we can provide you with a free no obligation surety bond quote! Find a Houston Sign Removal Bond.
Why do I need the City of Houston Utility Deposit Bond?
Posting a bond is necessary for all utility companies because it helps protect them from financial risk.
Utility customers pledge to pay anything due on time and in full by posting this type of contract, which the company shares with third-party surety providers. If they violate any terms or conditions outlined in their agreement and service contracts, then these entities will cover damages up to the full amount specified within your bond details (provided that you fulfill certain requirements). Get a Houston Sidewalk, Driveway, Curb, and Gutter Builder Bond.
Can I still get a City of Houston Utility Deposit Bond with Bad Credit?
Surety Bonds are a big concern for many who suffer from credit issues when applying. The Surety Bond will be higher due to the lower score, but we can still get you what you need at guaranteed lowest rates available! Read about Houston Sign Erection Bond.